---
Strong built water proof mod, long lasting which is built to last if continuously dropped
Geekvape Aegis Legend 200W Device, charging cable, OBS gift box, user manual
Express post focused, received using the fastest delivery possible
Geekvape Aegis Legend 200W

Do you break your mod after a week or two? Are you inclined to drop things? Are you always replacing your vaping mods after being the clumsy nut you are? Well, Hold up! This mod was designed just for you. Sporting the body of the Aegis Legend boasts supreme durability; its housing is a shock, dust, and water resistant (up to 30mins in 1 meter of water), which adds further security, making it one of the best mods for use in all kinds of conditions, activities and definitely designed for accident-prone people. The Aegis mod offers the ability to vape with a max range of 200 watts, with including features such as temperature control, stealth mode, bypass mode, with up-gradable firmware. The Aegis Legend runs on dual 18650 rechargeable batteries and has a closable USB charge port.
---
Dimensions: 3-3/16" x 1-1/4" x 1-1/4" (Without Tank)
510 Threaded
Built-in Battery Capacity: 3000mAh
Output Wattage: 5.0 - 80.0W
Resistance Range: 0.1 - 3.00ohm
Instant Firing Speed: 0.01s
0.96" LED Display Screen
Cube Shape Design
Ergonomic Design
Zinc Alloy Construction

Front Micro USB Charging Port

Short Circuit Protection

Low Voltage Protection
Package size (L x W x H): 10.50 x 11.80 x 4.70 cm / 4.13 x 4.65 x 1.85 inches
Package weight: 0.3200 kg
Product size (L x W x H): 9.05 x 5.85 x 3.00 cm / 3.56 x 2.3 x 1.18 inches
Product weight: 0.2600 kg
1. Firstly let us begin with the box mod - Geekvape Aegis Legend 200W. Place in your 18650 batteries, some charge may be required, you can do this through direct charge from any USB device using your cable provided. Otherwise, you can charge these 18650 Samsung batteries in the charger provided. Watch the YouTube video for greater detail in the previous tab.
2. Secondly lets run through the Tank. We are using the Crown 3 Tank and all you need to do is screw it onto your mod, and fill up the tank with juice, please watch and follow the video in the video tab for precise instructions. There are other tips for looking after the tank and how to clean it so spend some time watching the video, it will save time in the long run.
3. Thirdly you will need to set your vape at the required wattage of preference, be sure not to go too high on your vape mod too soon, its best to start low on 40W and increase by lots of 10W until you reach your desired strength. Also, make sure you have enough E-Liquid in your tank, otherwise you will be firing up the tank with too little juice which can burn out your coil and cost you extra money. I find I change my coil after it begins to lose flavour, this for me is around 3000 puffs.
Congratulations on purchasing your cheap box mod starter kit and we know Vapemate360 will become one of your favourite online store to shop at.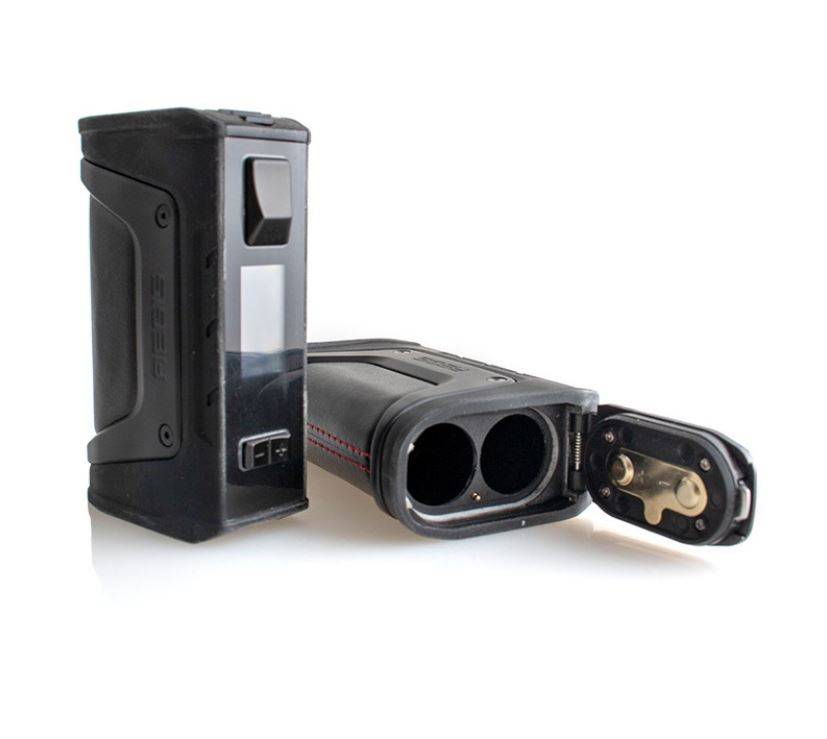 Geekvape Aegis Legend 200W Reviewed
Yes, it's a vaping device and NO!! Contrary to the name it's not just meant for geeks, jocks and other individuals from different social cadre can also partake and enjoy this latest Aegis presentation. Aegis, Chinese company that produces the Geekvape has the distinction of producing the first vaping devices that are shockproof, waterproof and dust proof. So, without further delay let's have a closer look!
First Impressions & Construction and anatomy of the mod
I am not going to get into the details of the box design and print. Instead I am going to get straight to the contents of the box. Inside the box is obviously the Aegis Legend mod, micro USB cable for charging and upgrading firmware, a nifty little plastic bag containing some spare screws (those come in handy, believe me) and a cover for the micro USB port. There's also the warranty / warning card and user manual.
From the first look I couldn't help but admire the sturdy, rugged design which the manufacturers claim will work under extreme conditions (still have to ascertain if the claim is true though). The measurements of the mod itself are 90.5mm x 58.5mm x 30.6mm so it's not compact but fits snugly in the palm of my hand. Once I held the mod in my hand I noticed that the exterior had a cushiony feel to it. Upon further investigation I found out that this cushion is actually a soft pad underneath the leather portion. To render the mod water resistant, it's covered with LSR silicone which also makes it heat resistant.
Moving on the building materials, Aegis is a marvel of ingenuity and design. It's made up of several materials. The top plate is stainless steel, buttons and frame are made from zinc alloy, the latch on the battery compartment is carbon steel and front display panel is made of nearly unbreakable Plexiglas. Needless to say this is one mod which is built to last. But that doesn't mean it can survive a fall from outer space and still function after an elephant has trampled it several times. So what does shockproof actually mean? It means it can survive an accidental fall or a hard bump and thud here and there.
Taking a closer look at the anatomy of the mod starting from the battery compartment at the base reveals that this mod is capable of housing two 18650 batteries. The hinged battery door is a bit tricky to operate and took a couple of tries to properly close it with the batteries inside. Moving up on the front side panel you have the '+' and '-'buttons or should I say knob as its one continuous switch. Moving further up we encounter the Plexiglas covered tiny display. It displays the rudimentary information about your mod but in this day and age where mods come with a large colour display, the Aegis legend is a bit of a disappointment. The fire button or should I say trigger is on the top most and is pretty slick in operation. It can easily be reached with the thumb and the index finger. On the topside the Aegis legend has a centred 510, gold plated, spring loaded connection which can house atomizers up to 30mm in diameter. Also the USB port is located on top covered by a rubber cap.
The AS Chip
The brain of the Aegis legend mod is the AS chip. Which ensures that the mod is lightning fast responsive and is smooth and stable in temperature control vaping mode. I am not going to delve into the details of menu system and navigation but I am definitely going to mention the vaping functions!
Vaping functions
Variable wattage mode.
Temp control in Nickel, Stainless Steel, Titanium, or TCR.
Bypass mode.
VPC - variable power curve, this entails that user can set the wattage for each second of
the vape. It can be set from up to down order to deliver a hard throat hit at first and gradually mellow down to provide a unique and pleasure experience. It can be set up to operate at 80 watts for the first second and go down automatically to 70 watts for second, and down to 50 watts for the remainder of the vaping duration. This is a totally customizable feature which can be set up according to individual preferences.
Final Word
Its sturdy, durable and rugged up to an extent and might I add capable of taking a lot more abuse than your average vaping mod but it certainly isn't indestructible. It has a long battery life thanks to the dual 18650 batteries. In the aesthetics department its certainly not an eye sore and is thoughtfully designed. The only drawbacks I could pinpoint were the hinged battery compartment door which can get a bit frustrating to properly latch in place and the dull display screen. Other than it's another solid presentation by the Chinese producers.