---
Light weight, long lasting pen which is built to last with a modern look
OBS Cube 80W Device, charging cable, OBS gift box, user manual
Express post focused, received using the fastest delivery possible
The OBS Cube features a compact cube shape design placing its big feature of ergonomics in mind. The OBS Cube also has a built-in 3000mAh battery capacity inside of a sleek and smooth zinc alloy construction. Firing up to 80 watts of power which is also easily adjusted using the up and down adjustment buttons. The OBS Cube features a 0.96" LED display screen with a detailed and easy to read user interface. Its fire speed is super fast, only ten milliseconds. It's fantastic for those wanting the power of a mod, but wish to keep size in mind. Great for nights out without carrying around the excess weight of a larger mod.
---
Dimensions: 3-3/16" x 1-1/4" x 1-1/4" (Without Tank)
510 Threaded
Built-in Battery Capacity: 3000mAh
Output Wattage: 5.0 - 80.0W
Resistance Range: 0.1 - 3.00ohm
Instant Firing Speed: 0.01s
0.96" LED Display Screen
Cube Shape Design
Ergonomic Design
Zinc Alloy Construction

Front Micro USB Charging Port

Short Circuit Protection

Low Voltage Protection
Package size (L x W x H): 11.00 x 10.00 x 4.00 cm / 4.33 x 3.94 x 1.57 inches
Package weight: 0.2230 kg
Product size (L x W x H): 3.10 x 3.10 x 8.15 cm / 1.22 x 1.22 x 3.21 inches
Product weight: 0.2130 kg
1. Firstly let us begin with the box mod - OBS Cube 80W Pen. Place in your 18650 batteries, some charge may be required, you can do this through direct charge from any USB device using your cable provided. Otherwise, you can charge these 18650 Samsung batteries in the charger provided. Watch the YouTube video for greater detail in the previous tab.
2. Secondly lets run through the Tank. We are using the Crown 3 Tank and all you need to do is screw it onto your mod, and fill up the tank with juice, please watch and follow the video in the video tab for precise instructions. There are other tips for looking after the tank and how to clean it so spend some time watching the video, it will save time in the long run.
3. Thirdly you will need to set your vape at the required wattage of preference, be sure not to go too high on your vape mod too soon, its best to start low on 40W and increase by lots of 10W until you reach your desired strength. Also, make sure you have enough E-Liquid in your tank, otherwise you will be firing up the tank with too little juice which can burn out your coil and cost you extra money. I find I change my coil after it begins to lose flavour, this for me is around 3000 puffs.
Congratulations on purchasing your cheap box mod starter kit and we know Vapemate360 will become one of your favourite online store to shop at.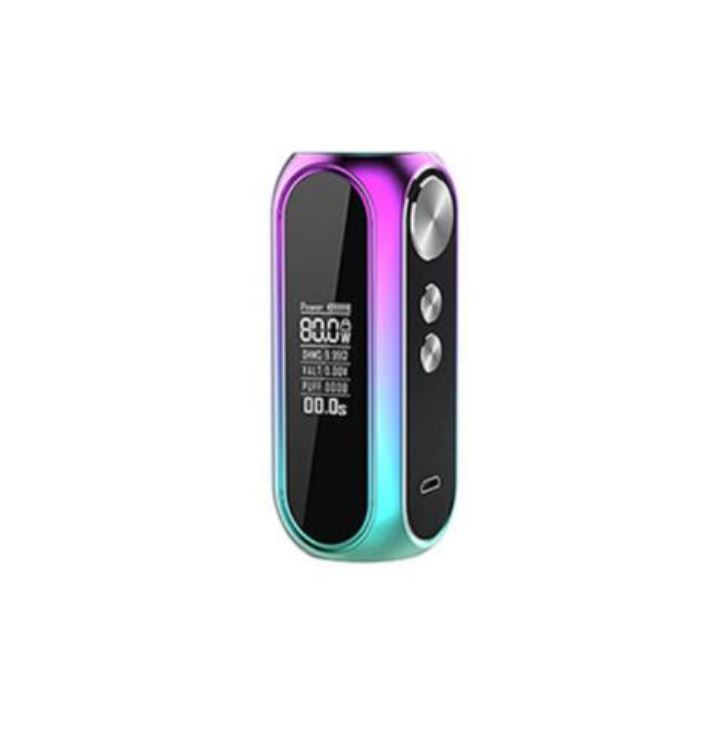 OBS Cube 80W Pen next reviewed
Humans are creatures of habit! I don't know who coined the term but it is 101% true. These habits extend to all walks of life be it our daily routine or the way we purchase things. Basic consumer psyche is that if a vendor or manufacturer has earned a reputation for churning out sturdy, dependable and quality line of quality products, the consumers will come to trust the brand and prefer it. Same is true about OBS and their line of atomizers. When the Chinese company OBS came up with their Engine 2 RTA, it quickly became talk of the vaping town owing to its aesthetics, build quality and price but let's not diverge from the review.
Unboxing:
The contents after unboxing are fairly routine. You get:
Cube Kit user manual
USB charging cable
Spare coil
Spare glass
Some extra O-rings
Tank
Cube mod
First Impressions:
The first impression of the cube mod is that it's masculine and chunky but not in a bad way but more on the lines of fits-snuggly-in-the-palm-of-your-hand type. The mod comes in three color variations:
Gun metal
Matt black
Stainless steel
I went with the gun metalic version because I am of the opinion that the color scheme is right up my alley and more resistant to showing signs of wear and tear than the other varieties. The mod is powered by an internal 23600 mAh battery and comes with signature OBS M1 mesh coil.
Features & Specs:
Mod
Size: 81.5 x 30.6 x 30.6mm
Weight: 152g
Capacity: 3000mAh
Resistance Range: 0.1 – 2.3 ohms
Wattage Range: < = 80w
Output Voltage: 3.2-4.2V
Continuous firing time: 10s
510 connection: Spring loaded, gold plated 510 pin
Cube Tank
Size: 25.5 x 47mm
Material: 304 Stainless Steel
M1 Mesh Coil Resistance: 0.2ohms (50-80w, best at 65-75w)
OCC Coil Resistance: 0.3ohms (30-80w, best at 35-70w)
Filling method: Removable top fill
Drip tip: 810
Capacity: 4ml (stated on OBS website)
Threading: Gold plated, non-adjustable 510 pin
Personally what I liked about the OBS cube is its basic rudimentary design. It doesn't offer temperature control which most of its contemporaries in the market offer. For some this may be a letdown as they might deem it an essential feature but for me that makes OBS cube a perfect non complicated starter mod for beginners and even for those of us who simply don't care about fidgeting with the device more than it's necessary.
The mod
Let's review the mod in detail first! The mod is more of a rectangle in shape with soft edges than a cube but let's not dwell on that. The back side of the mod has a metal brush finishing while the screen on the side has a glass finish. The other side contains the cube logo and in the front you have the control panel with USB charging port at the very bottom, the up and down button and on the very top sits the prominent firing button. My gun metallic color mod has the buttons in chrome color which nicely compliments the overall color scheme bestowing a classy but rugged look to the mod. The screen displays vital info such as how much battery is remaining, wattage, resistance, voltage and puff counter. To turn the mod on you have to press the firing button in quick succession five times and the same is used to turn it off. There's nothing fancy or intricate about the 0.96 inch LED screen but it serves its purpose and adds to the overall rudimentary charm of the device. If you are looking for fancy display with loads of information and animation you'll be disappointed. To adjust the wattage of the device either the up or down button needs to be clicked three times in quick succession. Doing that will allow to set the wattage up to 80W.
The tank
On top of the mod is the 510 spring loaded which can accommodate a 26mm tank without much overhang and even a 28mm. On top of the tank is the drip tip which is custom made 810 and provides for comfortable mouth position. The drip tip is interchangeable with other 810 but I found the one provided with the mod is the most efficient and comfortable to use. The tank has top fill method which entails giving the drip tip half a twist to take it off. The capacity of the tank is 4ml, the clear glass gives you a view of coil and the wicking holes on it.
Let's summarize the OBS cube 80W. First lets look at the plus points of it:
Fast charging: Being an avid vaper battery life and charging time means a lot to me so I actually took the pain of exactly recording how much time it took for the device to come to a full charge. To my surprise the battery went up to four bars in less than an hour. The battery life is also quite appreciable as it gives a very decent standby time.
Draw: The draw is punch and flavorful on all the settings. I started at 67W and went up till 80W noticing no dirty hits.
As I have already mentioned the design is chunky yet it fits comfortably in the palm of the hand and inside my jeans pocket. As for the flaws, to be honest I didn't notice any that would be deal breaker or obviously noticeable.
Final Verdict  
I have only nice things to say about the OBS Cube 80W. My experience with it (going on 3 weeks now) has been smooth with no hiccups. Simple yet efficient, gorgeous design, excellent battery timing and comfortable draw! What more can you ask for in a mod? This is one of those pick and go with it mods that doesn't puzzle the user with a whole host of options. I would highly recommend the OBS cube 80W!