---
Strong, long lasting mod which is ergonomically built for the user in mind
Sirius 200W Device, charging cable, sirius gift box, user manual
Express post focused, received using the fastest delivery possible
Modefined now presents you with the Sirius Mod 200W.
Designed in mind for the user becoming one of the many few to be ergonomically designed. The Sirius can push 200W from a dual battery 18650 set up, and natively run TC. Extreamly comfortable to hold, it can easily take up to 30mm RDAs or RTAs, with great durability.
Built from durable Zinc alloy, the front face plate is Aluminum, and it comes in assorted colours.
---
Temperature Limit: 200W - 600°F

Output power: 7Watts – 200Watts

Output mode: VW/TC-Ni/TC-Ti/TC-SS/TCR/Bypass

Max charging current: 1A

Max output current: 39A
Output Voltage Range: 0.4-8.4V

Body material: Die Cast Zinc Alloy

Stainless steel 510 atomizer connector

Anodized Aluminum Faceplate

Spring loaded nickel plated brass center pin
510 atomizer connector
Dimensions: 87mm*47.5mm*30mm
Product size (L x W x H): 8.70 x 4.70 x 3.00 cm / 3.43 x 1.85 x 1.18 inches
Product weight: 0.1400 kg
1. Firstly let us begin with the box mod - Sirius 200W. Place in your 18650 batteries, some charge may be required, you can do this through direct charge from any USB device using your cable provided. Otherwise, you can charge these 18650 Samsung batteries in the charger provided. Watch the YouTube video for greater detail in the previous tab.
2. Secondly lets run through the Tank. We are using the Crown 3 Tank and all you need to do is screw it onto your mod, and fill up the tank with juice, please watch and follow the video in the video tab for precise instructions. There are other tips for looking after the tank and how to clean it so spend some time watching the video, it will save time in the long run.
3. Thirdly you will need to set your vape at the required wattage of preference, be sure not to go too high on your vape mod too soon, its best to start low on 40W and increase by lots of 10W until you reach your desired strength. Also, make sure you have enough E-Liquid in your tank, otherwise you will be firing up the tank with too little juice which can burn out your coil and cost you extra money. I find I change my coil after it begins to lose flavour, this for me is around 3000 puffs.
Congratulations on purchasing your cheap box mod starter kit and we know Vapemate360 will become one of your favourite online store to shop at.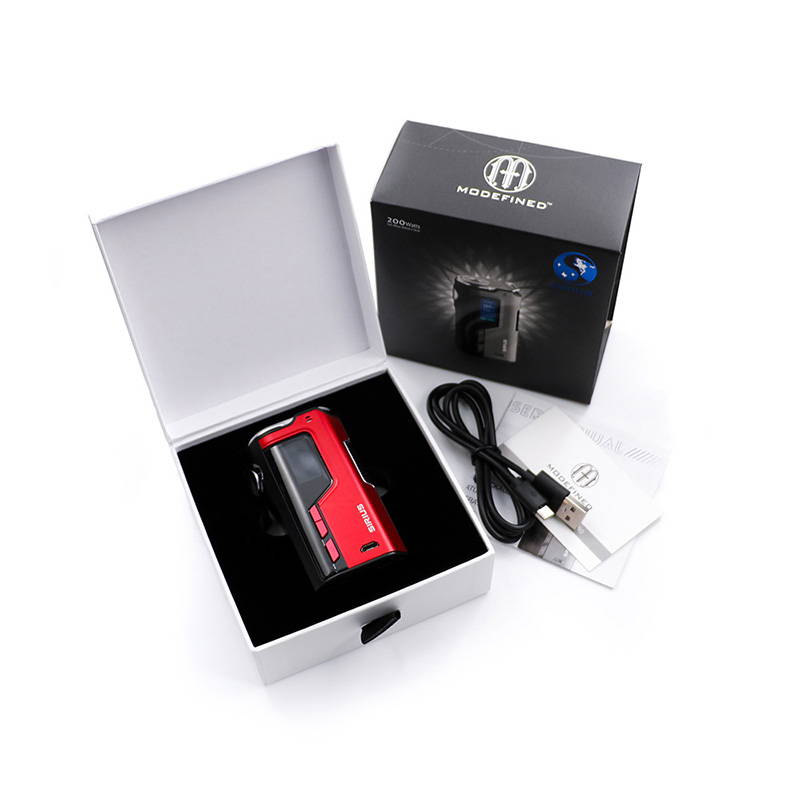 Sirius Modefined Mod – Review
Sirius? As in Sirius Black? Before anyone gets the wrong impression, this isn't a review about some Harry Potter world character. If you are below the age of 18 and a Harry Potter fan then you'd be thoroughly disappointed. This however is a review of the Sirius Mod a vape and a product of company called Modefined.
First Impression
The Sirius Mod is billed as a budget vape but contrary to classification the device has a really classy design. Sirius Modefined is made from die cast Zinc alloy with a chassis designed to fit snugly in the palm of hand. The characteristic glossy look of the device comes from anodised aluminium face plates. The futuristic look of the device also comprises of a mounted 0.19" OLED display screen which displays all the necessary information. The menu system on the screen works well and is quite responsive but not all the functions are touch based. To keep things convenient for people who prefer buttons there are a few present which control power/type/settings. Overall control scheme has been kept so simple that even my 10-year-old daughter can operate the vape (not that I would let her) plus you get a detailed user manual with the box with clear instructions.
Durability
Contrary to the fancy fragile look, the Sirius mod has proven to be quite sturdy as I dropped it (unintentionally) a few times. The display screen however is prone to getting scratches but a screen protector fashioned from a regular cellphone protector might do the job.
Salient features:
The Sirius mod is capable of generating output wattage of 7 to 200 W. The batteries of the Sirius mod are found behind the bottom latched little door and can be charged via USB (it's better to take the batteries out of the device and charge them just to be on the safe side). The Sirius supports Nickel, SS316, Titanium, a TCR mode, and bypass mode. The top portion of the Sirius has a 510 stainless steel connector which houses a spring-loaded nickel-plated brass centre pin. On top a 25 mm atomiser can fit quite snugly but even then, leaving just a bit of room for air flow is left due to intrinsic design. Also present on top is a little bottle opener type latch supposedly to tie a lanyard (I would advise against it, it's a vape not a damn ID card but that's just me! Feel free to hang it around the neck). The overall weight of the device is around 176 grams excluding the batteries which have to be purchased separately.
The overall look and feel of the Sirius mod is that of a 80's little cassette player which we used to see in the movies being used to record monologues typically by a scientist. The Sirius mod is ergonomically designed and has served me pretty well till now (despite my unintentional rough treatment). I would definitely recommend it as it has checked all the right boxes for me.