---
Light weight, long lasting pen which is built to last with a modern look
UWell Nunchaku 80W Device, charging cable, Nunchaku gift box, user manual
Express post focused, received using the fastest delivery possible
Do you prefer a smaller Vape mod when you go out? Hate having to carry around a heavy mod? Well UWELL has created the new revolutionary stick-type vape, the Nunchaku Mod is a single 18650 battery tube-style mod. It incorporates the most dynamic performance functionality within an all-purpose pen structure, integrating a smart 80W chipset. Also, the ventilation hole of the battery door provides the anti-overheating protection. Featuring multiple modes such as wattage, temp control for Ni and SS as well as BYPASS! This mod is also able to be charged via USB. It is everything you want to except and comes in half the size.
---
Dimensions - 94.5mm Tall, 27.4mm Diameter
Single High-Amperage 18650 Battery - Not Included
Wattage Output Range: 5-80W
Voltage Output Range: 0.7-7V
Temperature Range: 200-600F
Versatile Temperature Control Module
Supports Ni200 Nickel and Stainless Steel Heating Elements
Power Mode
Bypass Mode
Superior Stainless Steel Construction
Elegant Design Element
Intuitive OLED Display
Oversized Firing Mechanism
MicroUSB Port
510 Connection
Minimum Atomizer Resistance: 0.1ohm
510 atomiser connector
The mod is 27.4 mm diameter.
Size: 27.4 mm width × 94.5 mm height
Net weight 124 grams
1. Firstly let us begin with the box mod - UWell Nunchaku 80W Pen. Place in your 18650 batteries, some charge may be required, you can do this through direct charge from any USB device using your cable provided. Otherwise, you can charge these 18650 Samsung batteries in the charger provided. Watch the YouTube video for greater detail in the previous tab.
2. Secondly lets run through the Tank. We are using the Crown 3 Tank and all you need to do is screw it onto your mod, and fill up the tank with juice, please watch and follow the video in the video tab for precise instructions. There are other tips for looking after the tank and how to clean it so spend some time watching the video, it will save time in the long run.
3. Thirdly you will need to set your vape at the required wattage of preference, be sure not to go too high on your vape mod too soon, its best to start low on 40W and increase by lots of 10W until you reach your desired strength. Also, make sure you have enough E-Liquid in your tank, otherwise you will be firing up the tank with too little juice which can burn out your coil and cost you extra money. I find I change my coil after it begins to lose flavour, this for me is around 3000 puffs.
Congratulations on purchasing your cheap box mod starter kit and we know Vapemate360 will become one of your favourite online store to shop at.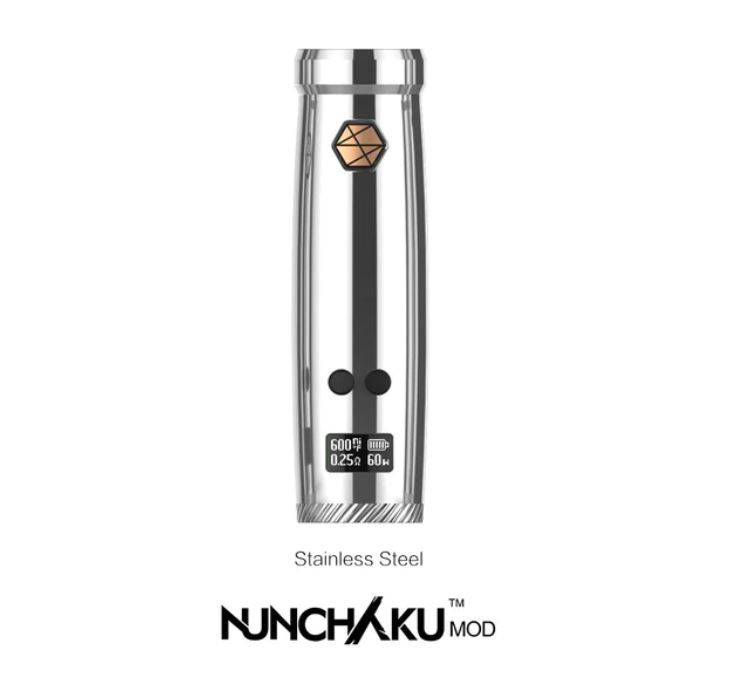 Uwell Nunchaku 80W Pen Review
The first notable thing about this vaping device is its unusual name. Uwell Nanchaku! An ancient weapon? Well the unusual name befits the unusual look. Upon further scrutiny it was revealed that the company who makes the mod is called Uwell. The Nunchaku 80W is their first offering in the market. It's a tube mech mod inspired mod powered by a single 18650 battery with a max output of 80W.
First Impression:
The Uwell Nunchaku starter kit is comprised of the following items:
Extra quartz glass
0.25ohm coil (installed)
0.4ohm coil
pack of replacement O-rings
Micro USB cable
User's manual
Anatomy of the device:
I ordered my Uwell Nunchaku in shining black colour with matte finish. For those who like to experience a little variety, Uwell has you covered by offering a wide variety of different vibrant colours. The name Nunchaku becomes fairly obvious when you see the mod and hold it in hand. It does look and feel like one end of the ancient weapon which adds to its unique appeal. I must confess it is a welcome departure from today's hefty big box mods.
But don't get me wrong! Being compact doesn't mean it lacks features that you'd find in other big box mods. On the contrary it has wattage, temperature control and even bypass modes. As for the anatomy of the device let's start from the base which houses the single high amperage 18650 battery (not included in the starter kit). You simply unscrew the base to put the battery in. The inside of the battery chamber is clearly marked with + and the unscrewed cap is marked with – sign to show which end of the battery goes where. The unscrewed cap also contains four ventilation holes.
Overall the Nunchaku is about 27.4mm in diameter and 94.5mm in length. Moving upwards from the battery base we encounter the 0.96 OLED screen. Again compared to big box mods having wide screens which display plethora of information this seems rudimentary but once you put the battery in, the OLED displays all the necessary information like such as the output power, battery life indicator, etc. Moving upwards from the OLED screen we have the up and down or '+' and '-'buttons which control the wattage, voltage and resistance of the device. The same buttons can be used for navigating the various modes once the fire button at the top is pressed three times in quick succession. At the top we have the rectangular and prominent fire button. On the back of the mod there's a USB port for charging and if you feel like it upgrading the device firmware.
On the very top of the device is the threaded 510 connection which houses the 25.2mm Uwell Nunchaku Sub-Ohm tank. The tank's capacity is 5ml and height of 49.6mm. It has a thread open top fill system and a separate condensation holder. For accommodating different wattage's the Nunchaku uses plug pull coils which are very easy to replace and clean. These coils come in 0.25ohm rated for 40 to 50W and 0.4ohm coil rated for 45 to 55w. On top of the tank is the drip tip which can be covered with drip tip cover when not in use.
Conclusion
I must confess I didn't know what to expect when I ordered the Uwell Nunchaku. I am used to big box vape devices and this was a big change for me but I am glad to report that the Nunchaku doesn't disappoint in any department. My favourite has to be the Professional Flavor Optimising intrinsic feature. This feature ensures that you get copious amount of cloud and uninterrupted flavor flow at low wattage settings. This not only prolongs the battery life on a single charge but also saves e-liquid. I would definitely recommend the Uwell Nunchaku to beginners for its ease of use, array of functions and vaping modes and also to the more experienced vapours as it has everything they'd look for in a big box vape device.