---
Light weight, long lasting mod which is built to last with a modern look
Vaporesso Polar 220W Device, charging cable, Vaporesso gift box, user manual
Express post focused, received using the fastest delivery possible
Vaporesso Polar 220W Box Mod

Visually, this mod is a masterpiece. A slim chassis features a large OLED display screen which uses innovative technology to provide you with different vaping statistics in a remarkably well-organised way. Having a high max of 220 watts, the device is powered by two 18650 batteries. Best of all, the Polar boasts an Omni Board 4.0 chip-set that allows you to navigate several different output modes.
---
Dimensions: 90mm by 54mm by 24mm
Dual High-Amp 18650 Batteries - Not Included
Wattage Output Range: 5-157W
Min Atomizer Resistance: 0.05ohm
Temperature Range: 200-600F
Supports Ni200 Nickel, Titanium, and Stainless Steel Heating Elements
Comprehensive TCR Adjustments
Highly Advanced 32-Bit GENE Chip
Oversized Firing Button
Magnetized Battery Door Cover.
Short Circuit Protection
Over-Temperature Protection
Battery Reverse Protection
Output Over-Current Protection
OVercharge Protection
Over Discharge Protection
Low Battery Warning
MicroUSB Port - Firmware Upgrades
510 Connection
Decorative Carbon Fiber or Resin Inlay
Intuitive OLED Display
510 atomiser connector
Package size (L x W x H): 12.00 x 8.00 x 4.00 cm / 4.72 x 3.15 x 1.57 inches
Package weight: 0.3330 kg
Product size (L x W x H): 9.00 x 5.40 x 2.40 cm / 3.54 x 2.13 x 0.94 inches
Product weight: 0.2850 kg
1. Firstly let us begin with the box mod - Vaporesso Polar 220W. Place in your 18650 batteries, some charge may be required, you can do this through direct charge from any USB device using your cable provided. Otherwise, you can charge these 18650 Samsung batteries in the charger provided. Watch the YouTube video for greater detail in the previous tab.
2. Secondly lets run through the Tank. We are using the Crown 3 Tank and all you need to do is screw it onto your mod, and fill up the tank with juice, please watch and follow the video in the video tab for precise instructions. There are other tips for looking after the tank and how to clean it so spend some time watching the video, it will save time in the long run.
3. Thirdly you will need to set your vape at the required wattage of preference, be sure not to go too high on your vape mod too soon, its best to start low on 40W and increase by lots of 10W until you reach your desired strength. Also, make sure you have enough E-Liquid in your tank, otherwise you will be firing up the tank with too little juice which can burn out your coil and cost you extra money. I find I change my coil after it begins to lose flavour, this for me is around 3000 puffs.
Congratulations on purchasing your cheap box mod starter kit and we know Vapemate360 will become one of your favourite online store to shop at.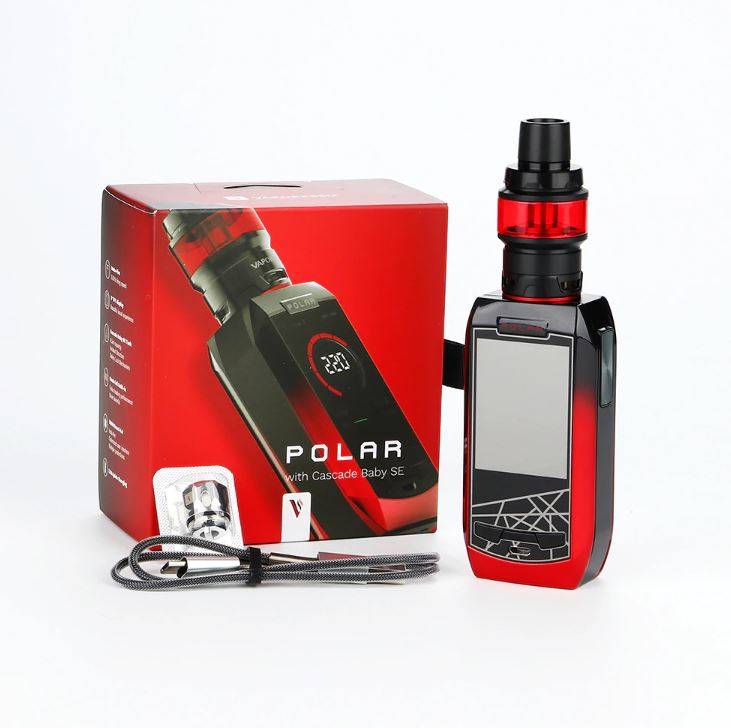 Vaporesso Polar 220W Reviewed
Vaporesso is a company that has carved out a solid reputation for itself in the vaping market. In the past they have offered some pretty feature rich and commercially successful models like the revenger. Building on their past success, Vaporesso has again come up with Polar 220W. How does this new model compare to the previous one? What are the salient features? Let's take a look and find out!
First Impressions
Vaporesso Polar 220W came in a white cardboard box with a printed picture of the device in the front and some technical specifications on the back. The box contained the mod itself, a USB charging wire and user manual (quite thick I might add). My first impression of the mod was that it looked more like a cellphone than a vape mod. But that doesn't mean it's not ergonomically designed. It's compact enough to fit snugly in the palm of my hand. For those that argue that not all hands are made equal here's the measurement 90mm x 45mm x 28mm. The corners are rounded off providing an even easier overall grip. The mod is constructed out of zinc alloy and comes in a variety of color schemes. Due to personal preference I selected a sober metallic grey one with a matte black finish. Front and back panel are glossy hence a screen protector is recommended to keep it scratch and finger print free.
On top of the device is the gold plated, spring loaded 510 connection for atomiser. It's compatible with various atomiser but anything over 25mm in diameter will have overhang. This doesn't compromises the functionality of vape mod in any way it just makes larger tanks look slightly unsightly when screwed on. The rectangular fire button is on the side easily reachable by the index finger. The + and – button are placed right underneath the 2 inch display screen with the selection button in between.
The battery door was a bit difficult to find as it is placed in the lower corner. Getting it open was another trick as I had to find something to wedge in there and pull the door open. The door is held in place by three magnets. Inside the compartment are spring loaded contacts with polarity indicators. It houses 18650 batteries and has an inbuilt 2.5A rapid charging feature. This means that you can even vape while charging your batteries and also full battery charge can be attained in under 2 hours.
Salient Features
The Omni 4.0 Chip-set
The brain of the Vaporess vape mod is the ultra-responsive Omni 4.0 chip-set which is upgrade-able via the USB. This chip-set allows control over various wattage modes, TCR modes, bypass mode and smart modes such as CCW and CCV mode. Apart from ultra-fast fire time of under a second, the chip-set also provides various comprehensive safety features such as short circuit protection, low resistance and low power.
Smart Mode
Although there are various vaping modes present, this is by far my favourite and I would definitely recommend it to people new to vaping. This mode allows your vaporesso device to set the power output based on the resistance of the atomiser. Being a newbie its difficult and sometimes overwhelming to remember power settings according to different atomiser types but activate this mode and its call taken care for you by the device. Still manual tweaking is allowed using the + and – buttons.
I am not going to get into the detail of the navigation menu because as far as I am concerned the user should get accustomed to it on their own. It may take a little tinkering and playing around – a little trial and error but eventually you'll get the hang of it. Don't worry you won't mess up or make your device explode on your voyage of discovery. It's too smartly built and designed!
CCW & CCV Modes
What I am going to explain are other two vaping modes that I immensely enjoyed before wrapping up this article. The other two modes are CCW (custom Curve Wattage) and CCV (Custom Curve Voltage). The two sound basically the same with the difference of wattage and voltage at the end. What these modes is set the wattage and voltage for each second of firing time. This can be set in ascending and descending order. For example CCW can be set to fire 50W for first second, 60W for second and 70W and so on. This increases the throat hit and gradually keeps increasing it as the wattage ascends.
Conclusion
Lots of customisation and interesting features jammed pack in this vaping mod! Quick firing, ergonomically designed, with large 2" display. The only drawback I could find was the overhang of larger tanks. The Vaporesso Polar 220W is ideal not only for beginners but also for advance users. It's user friendly and is built to last. A good choice on any given day!