---
Strong, long lasting mod which is built to last with high daily use
VooPoo Drag 157W Device, charging cable, VooPoo gift box, user manual
Express post focused, received using the fastest delivery possible
If you are after a reliable and popular vape this mod is the go to. Latest VOOPOO DRAG 157W TC Box Mod is powered by dual replaceable 18650 batteries. It boasts Super Mode, which will be activated automatically under 157W wattage and GENE chip. Also, it features the fastest fire speed, 0.025s. WOW!
---
Dimensions: 90mm by 54mm by 24mm
Dual High-Amp 18650 Batteries - Not Included
Wattage Output Range: 5-157W
Min Atomizer Resistance: 0.05ohm
Temperature Range: 200-600F
Supports Ni200 Nickel, Titanium, and Stainless Steel Heating Elements
Comprehensive TCR Adjustments
Highly Advanced 32-Bit GENE Chip
Oversized Firing Button
Magnetized Battery Door Cover.
Short Circuit Protection
Over-Temperature Protection
Battery Reverse Protection
Output Over-Current Protection
OVercharge Protection
Over Discharge Protection
Low Battery Warning
MicroUSB Port - Firmware Upgrades
510 Connection
Decorative Carbon Fiber or Resin Inlay
Intuitive OLED Display
510 atomiser connector
Package size (L x W x H): 12.00 x 8.00 x 4.00 cm / 4.72 x 3.15 x 1.57 inches
Package weight: 0.3330 kg
Product size (L x W x H): 9.00 x 5.40 x 2.40 cm / 3.54 x 2.13 x 0.94 inches
Product weight: 0.2850 kg
1. Firstly let us begin with the box mod - VooPoo Drag 157W. Place in your 18650 batteries, some charge may be required, you can do this through direct charge from any USB device using your cable provided. Otherwise, you can charge these 18650 Samsung batteries in the charger provided. Watch the YouTube video for greater detail in the previous tab.
2. Secondly lets run through the Tank. We are using the Crown 3 Tank and all you need to do is screw it onto your mod, and fill up the tank with juice, please watch and follow the video in the video tab for precise instructions. There are other tips for looking after the tank and how to clean it so spend some time watching the video, it will save time in the long run.
3. Thirdly you will need to set your vape at the required wattage of preference, be sure not to go too high on your vape mod too soon, its best to start low on 40W and increase by lots of 10W until you reach your desired strength. Also, make sure you have enough E-Liquid in your tank, otherwise you will be firing up the tank with too little juice which can burn out your coil and cost you extra money. I find I change my coil after it begins to lose flavour, this for me is around 3000 puffs.
Congratulations on purchasing your cheap box mod starter kit and we know Vapemate360 will become one of your favourite online store to shop at.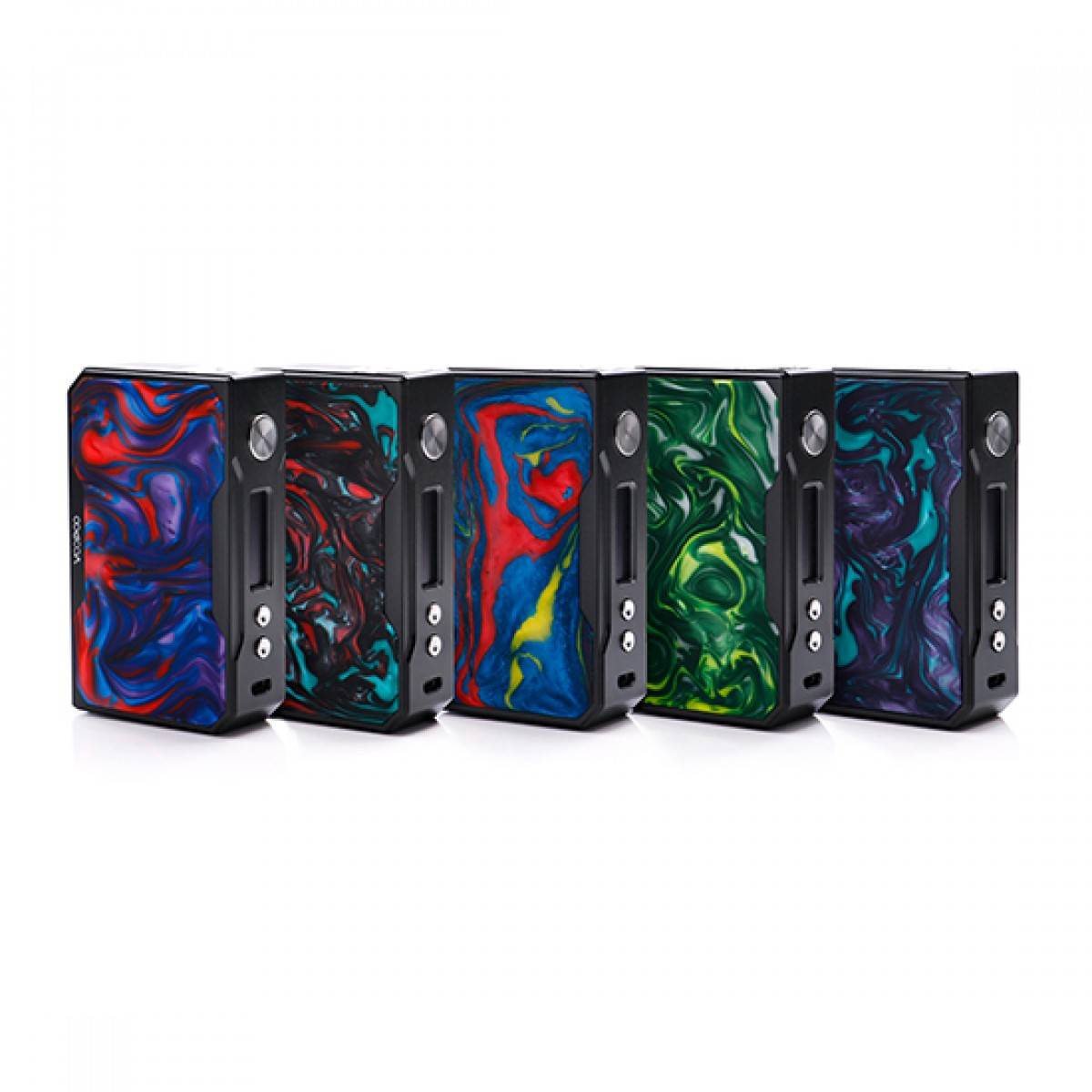 VooPoo Drag 157W Reviewed
At a glance the title might look er… well let's put it mildly "juvenile". I mean come on VooPoo? But let me assure you there's nothing juvenile about the product being discussed. VooPoo Drag 157W is a Chinese made vaping mod and contrary to its name is one of the most feature rich device in the market today.
First impression
Instead of dawdling on how aesthetically pleasing the packaging box looks, I am going to jump right to the nitty gritty details of the mod itself. Unlike most mods today which tend to be small in size to appear trendy, the VooPoo mod is quite large. So large in fact that it weighs around 212g empty and around 298g with batteries installed. As evident from the weight description the VooPoo mod doesn't fit snugly in the palm of your hand but that's the old school appeal of this powerful mod. It has a classic rectangular shape with straight edges and corners.
The body of the mod is made from anodised zinc alloy and is left unpainted which makes it look like stainless steel. Depending upon what colour scheme you chose at the time of ordering, one side of the mod can be silver / black or silver / red. The other side is plain Drag logo in giant font with nothing fancy or bling bling scheme keeping in line with the overall rugged look of the product. The Drag printed side also serves as a detachable door for dual-18650 battery compartment. The compartment door is kept in place with the help of two large magnets, inside are two spring loaded battery trays clearly marking the negative positive side of the batteries to be connected. There's an inside layer of plastic which prevents the batteries coming in contact with the metal body.
The VooPoo control panel has the large fire button on top of the central LCD display and two control buttons beneath it. The USB charging port is located below the control buttons. When pressed the buttons give that satisfying clicking feeling. The stainless steel 510 spring loaded gold plated centre pin is situated at the top of the mod. The 510 pin is compatible with various tanks which fit it quite perfectly.
Salient features
VooPoo Drag 157W comes with standard USB cable, warranty card and user manual. Below are the salient features:
Power: 5-157W
Battery: 2 x 18650 (balance charging)
Size: 90 x 54 x 24mm
Lowest Resistance in Power mode: 0.05Ω
Lowest Resistance in TC mode: 0.05Ω
New function: Super Mode and Power
Compensation mode.
TC MODE: SS, NI, TI, NC, TCR, CCR
Firmware Up-gradable
Temp Range 100-315 C
GENE Chip
The above is pretty clear indicator how feature packed VooPoo drag really is. Most of these features stem from the microprocessor powerhouse called the GENE chip. The GENE chip makes various vaping modes available for the user such as:
CCW (Constant Curve of Wattage) lets user create custom vaping curves for first 9 seconds
CCT (Constant Curve of Temperature) same as CCW but also allows regulation of temperature
The gene chip also smartly provides protection against the following:
Reverse polarity: in case a user enters the batteries the wrong way
Balanced charging, over current, over charge and short circuit.
Software
The software controlling the VooPoo drag is lets you do some cool customisation like fidgeting around with screen so you can replace the VooPoo boot screen and put in text of your choice. The software also allows upgrading the firmware and lets user control vaping time out and vaping curves. The firmware update is available from VooPoo website. The only drawback of this software is that currently it's compatible with Windows only.
Final word
The common reaction to products originating from China is that they will have sub-par quality and durability. VooPoo drag proves that notion wrong by being extremely sturdy and durable (I have unintentionally dropped it a few times). It has intuitive and easy to use controls and software interface and delivers excellent vaping experience which is parallel to more expensive vaping devices available in the market. If you can look past the old school box, heavy, clunky design, it's the most cost effective vaping device out there which doesn't compromises on quality in the slightest.